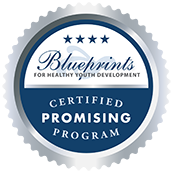 Proven and Effective
Coping Power is a Blueprints Promising Program.
Each Blueprints program has been reviewed by an independent panel of evaluation experts and determined to meet a clear set of scientific standards. Out of 1400+ programs that have been reviewed, less than 5% have been designated as model and promising programs.
Coping Power has also been recognized as a promising and effective program by What Works Clearinghouse, OJJDP Model Programs Guide, and CrimeSolutions.gov.